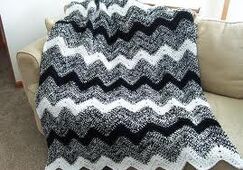 Afghan's 
Edit
Afghans are not hard are not easy they are in between. If you just learned to crochet you stick with smaller projects. A Afghan takes a lot of time so you have to have patience. the one in the picture is one that you can make. it is not the one for the pattern.
Instructions
Edit
1

Make a chain the width that your afghan should be....when you get it the desired width .... make (1) extra stitch ... then turn around skip one stitch
and go back up the chain using a single crochet.
2

Do that (3) times to form a closely stitched band

3

 

Then after the (3) rows of single crochet ..... start doing each row using triple crochet ..... and remember every time you turn around you always make an extra stitch and then skip it as you turn and go back up the row.

4

Repeat this until your desired length is achieved.

5

Then do (3) rows of single crochet for a band just like you did at the top of your piece.